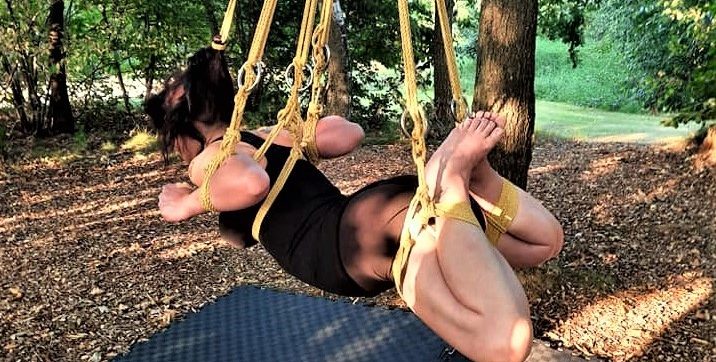 Date
Aug 12 - 14 2022
Expired!
Cost (With Out Fee)
DKK1.000,00
Late Summer Camp en
Nawa Late Summer Camp, beginners and advanced/lower intermediate
Make a big X in your calendar 12-14 August 2022.
Klub Nawa and B&E are hosting the famous Late Sommer Camp. The camp opens Friday, August 12 at 4 p.m and closes Sunday, August 14 at 8 p.m.
There we will again be offered classes at 2 levels, beginners / lower intermediate workshop with Tati Limati, Ukraine and advanced workshop with Soptik Zet, Czech Republic.
You sign up for 1 level for the whole weekend.
Deadline for booking is August 5 at 8 p.m.
Description of workshop will come later.
The total price for the weekend all-inclusive is 325 EURO per. couple and includes full welfare from Friday evening to Sunday afternoon, workshops Saturday and Sunday, show on Friday, toilet and bath facilities, space for your own tent or caravan incl. connection to power, free rope jam after dinner Friday, Saturday.
Friday night we will celebrate the host's (Bo´s) 60th birthday. There will be a buffet at 18 as well as shibari show in the evening at 21. Registration for the buffet on Friday is necessary, preferably together with registration for the workshop.
In the evening on Friday, Saturday, there will also be the opportunity for completely free play where there will be no restrictions on clothing, toys, type of play, etc. – we have made a separate room where there is a opportunity for the more kinky play.
Registration to [email protected]
When registering, please tell us if you sign up for beginner or advanced workshop.
NOTE! Registration is only valid when the payment has been transferred (mobilpay +42238378 or account transfer – ask for payment info) and you have received confirmation on email.
!! For those who do not have their own tent / caravan for overnight stays, it is possible to rent a caravan on site. BOOKING OF CARAVAN DIRECTLY TO BO LYNGVIG (tel. 42238378 or via mail / FB on PM) !! The price is 135 EURO for the whole period. Refundable ONLY until Monday 22rd May.